Length: 17.1 miles round trip
Elevation Change: 2000' cummulative elevation gain
Season: Mid-Summer thru Early Fall
Difficulty: Difficult
Permit: NW Forest Pass Required


Features: This hike is only snow free for a brief period of time between mid summer and early fall. Yet, it is one of the most rewarding adventures in the beautiful Three Sister's Wilderness Area.

The hike gains about 2000' in elevation, and takes you up from a fairly dense pine forest into the sub alpine region right in the middle of Broken Top and South Sister Mountain.

To hike in the Green Lakes area of the Three Sisters Wilderness does not require this loop hike that I am describing here. I did the hike as a loop, and am describing it as such, but obviously one can hike any portion or leg of this hike and find extreme satisfaction.

I did the hike counter-clockwise. I began and ended my adventure from the main parking area for Green Lakes. I headed northeast up the Soda Creek drainage. The trail barely climbs for the first couple miles, but as you enter the Soda Creek Canyon things get a bit steeper.

If you chose to do this loop hike, I strongly encourage you to do the little spur hikes I've illustrated along the way. They have their own rewards and are well worth the effort.

The hike leaves the forested valley and climbs into a more alpine environment. Here you are surrounded by wonderful vistas and in season, wonderful floral displays. After you get to Green Lakes, if you have time follow the trail north up another level to a plateau with more fantastic views, especially of Broken Top.

As the map shows, I followed Fall Creek back to the trailhead. It makes a long day, or a great overnighter. Enjoy!!!!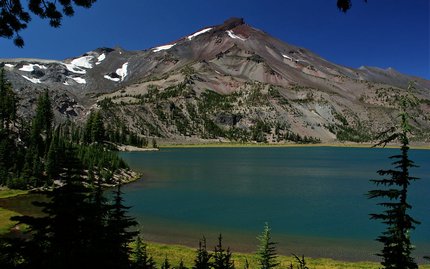 Looking across Green Lake at the South Sister