Length: 7.8 Miles round trip
Elevation Change: 800' Cumulative Elevation gain
Season: Summer thru Fall
Difficulty: Moderate
Permit: Wrist-Band from Observatory
GPS: N46 16.602,W122 13.008
Latitude: 46.2767
Longitude: -122.2168

Volcano Alert Call this number to see if this trail is closed: 360-449-7800
Features:

NEW!
Click for PDF Topo Map of this Hike

This hike begins at the same location as the Coldwater Peak hike... at the northeast corner of the Johnston Ridge Visitor Center parking lot. The first 1/4 mile is paved, then becomes well traveled natural surface. The first 2 miles of this hike are heavily hiked by visitors to the Johnston Ridge Visitors Center. These first 2 miles offer incredible views of Mt St Helens to the south and Harry's Ridge to the east, and Coldwater Peak to the north.

At 2.3 miles you will come to the junction of Trail #207 which leads over to Windy Ridge. Keep straight ahead on your Trail #1, which is also called the Boundary Trail. This is the lowest point of the hike, and you will now climb gently toward the junction to the trail that leads to the top of Harry's Ridge.

Just before you each the junction to Trail #208, you will cross a substantial iron bridge. Views along this portion of the trail are mostly of Mt St Helens, Coldwater Peak, and Harry's Ridge. When you reach Trail #208, bear right onto the trail which climbs steeply up Harry's Ridge.

Soon you will be treated to incredible views of Spirit Lake and Mt Adams to the east. As you climb Harry's Ridge the views get better and offer the best possible frontal view of the blast zone of Mt St Helens. This ridge was the bulls eye during the cataclysmic event of May 1980. The blast not only removed the timber on this ridge, but it even removed the soil. What is there now is the ash and pumice left over from the explosion.

At the top you will find an old propane tank that was once used to fuel the equipment that was monitoring the mountains behavior. You can see the visitors center on Johnston Ridge from here too.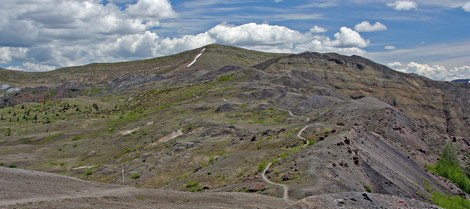 Harry's Ridge as seen from the Boundary Trail on Johnston Ridge
How to get there:
NEW!
Click for PDF Directions Map of this Hike
From Seattle, WA
Drive south on I-5 to the junction of State Road 504. Exit the freeway, and turn left (east) onto SR504 and follow it east. At five miles you will pass the Silver Lake Visitor Center and in another 38 miles you will come to the junction to SR504 E. Bear right onto SR504 East and follow it another 8 miles to the Johnston Ridge Observatory.
(closed in winter)

From Portland, OR
Drive north on I-5 to the junction of Washington State Road 504. Exit the freeway, and turn right (east) onto SR504 and follow it east. At five miles you will pass the Silver Lake Visitor Center and in another 38 miles you will come to the junction to SR504 E. Bear right onto SR504 East and follow it another 8 miles to the Johnston Ridge Observatory.
(closed in winter)