Length: 10.2 Miles round trip
Elevation Change: 1800' Elevation gain/loss
Season: Summer thru Fall
Difficulty: Challenging
Permit: NW Forest Pass Required
Features:

NEW!
Click for PDF Topo Map of this Hike

This delightful hike up Stagman Ridge brings a large variety of floral displays in season, and a large variety of vistas. The trail begins at a parking area developed at the end of an old logging road. The trail follows the old road for about a quarter mile before entering the Mt Adams Wilderness Area.

This hike never gets very steep if you take it clock-wise. You will hike over one ridge, drop a bit to a small valley, then climb back toward Mt Adams. At about 2.5 miles you break out into an open meadow with a spectacular view of the mountain. A short distance later, you will come to an intersection of the trail that takes you to the PCT. You will return to this intersection when you complete the loop after visiting Looking Glass Lake.

The trail climbs for the next mile until it meets the PCT #2000. At that point you follow the PCT toward Mt Adams until it intersects Trail #9. Trail #9 was originally created to be the Around the Mountain Trail for Mt Adams, but since the boundaries have changed, and because of Mother Nature, it is difficult to try to encircle the mountain.

Anyway, at this point bear to the right and follow Trail #9 south and east until you come to the intersection of Trail #9-A. Follow Trail #9A downhill to Looking Glass Lake. The trail crosses a couple of streams that can be a challenge during heavy run-off.

Just before you reach Looking Glass Lake, you will pass an intersection of the trail that will take you back to Trail #12 on Stagman Ridge. You will need to return to this point after visiting the lake.

Looking Glass Lake is a beautiful little lake nestled against the southwest side of Mt Adams. Trees surround most of the lake, but Mt Adams is visible from the southwest side of the lake. When you are ready, climb back to the intersection that you passed earlier on the way to the lake.

Upon reaching that intersection, bear left and follow the trail across a couple of streams back to Trail #12, which you will follow back to the trail head where you began.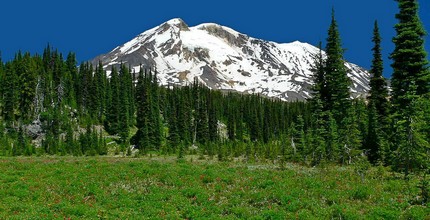 Mt Adams as seen from the Stagman Ridge
How to get there:
NEW!
Click for PDF Directions Map of this Hike
From Portland, OR
From Portland, travel east on Interstate Hwy 84 to Exit 64 at Hood River. Turn left, and pass under the freeway and cross the toll bridge ($2.00) into Washington state. Turn left onto SR14 and drive approximately 1.5 miles to state road 141 Alt. Turn right onto SR141 Alt. and follow it another 2 miles and merge bearing left onto SR141. Then travel north on SR141 for another 19 miles to Trout Lake and the junction to Mt. Adams Road. Bear right and forward onto Mt. Adams Road for about 1.3 miles and you come to the junction with Forest Road 23. Bear left and forward onto FR23 and continue north for about 7.7 miles and you will come to the junction of Forest Road 070. Bear right onto FR070 and follow this unpaved road downhill and across a bridge and back uphill for about 3.5 miles and you will come to the junction of Forest Road 120. Make a sharp right uphill turn onto FR120 and continue through a series of curves for about another mile and you will come to the trailhead for this hike.