Length: 9 Miles round trip
Elevation Change: 1300' Elevation gain / 200' loss
Season: Summer thru Fall
Difficulty: Challenging
Permit: NW Forest Pass Required
Features:

NEW!
Click for PDF Topo Map of this Hike

There are a number of ways to climb Cispus Point. This hike begins on Forest Road #5508.024. The trail actually follows the old Indian Trail called the Klickitat Trail. Even though the trail begins climbing immediately, it is never very steep.

After a brief climb, the trail descends to a saddle before beginning to climb again. When you reach the saddle, you leave the dense forested area and enter an open area with spectacular views of Mt St Helens and Mt Adams. Floral displays are wonderful along this trail.

You then climb steeply back into a dense forested area and remain there for nearly 2 miles. There are times when you can see out and get excellent views of the valleys below and the mountains in the distance.

At about 2.5 miles you come to the junction of Trail #128. Continue on another mile to the junction of the Cispus Lookout Trail #127. Take this trail to the top of Cispus Point.

The trail briefly goes through a dense forest, then breaks out into a beautiful meadow, replete with wildflowers and more vistas than the eye can behold. And you aren't even on top of the mountain yet.

Soon the trail begins its steep switchbacked ascent of the mountain. The views from the top of Cispus Peak are as good as they get. Of course, the surrounding mountains help. You get an unparalleled view of Mt Rainier, Mt Adams, and Mt St Helens. The wildflowers are the icing on this cake!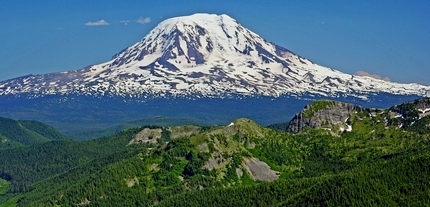 Mt Adams as seen from Cispus Point
How to get there:
NEW!
Click for PDF Directions Map of this Hike
From I-5 junction with US Hwy 12
Travel east on US Hwy 12 for about 48 miles to Randle. From Randle, travel south on State Road 131, crossing the Cowlitz River and in a mile you will come to Cispus Road on your left. Bear left and follow Cispus Road, which become Forest Road 23, for another 5.2 miles and you will come to Forest Road 55 on your left. Turn left onto FR55 and follow it uphill through a number of switchbacks and junctions for 7.5 miles. At that point you will come to the junction with Forest Road 5508. Bear left onto FR5508 and follow it for 1.3 miles, and you will come to Forest Road 024. Bear right onto FR024 and follow it 1.2 miles to the end where you will find the trailhead for this hike.