Length: 2.5 mile loop
Elevation Change: 440' gain
Season: Year Round
Difficulty: Easy
Permit: Not Required
Features:

NEW!
Click for PDF Topo Map of this Hike

This loop hike can be done clockwise or counterclockwise. You can begin the hike at either Horsetail Falls trail head or the Oneonta Gorge trail head. This narrative will begin at Horsetail Falls.

You begin climbing immediately for a short distance where you hook up with Gorge Trail #400. Follow this trail west for about a half mile to the beautiful Ponytail Falls. You are rewarded not only with its beauty but by being able to walk behind the falls as you continue your hike around this loop adventure.

Another half mile and you come to Oneonta Gorge with a superb bridge spanning the chasm formed by Oneonta Creek. Looking downstream you are looking at the top of Oneonta Falls. After crossing the creek, you begin a brief steep climb and continue west for about another half mile.

A trail will lead you back down to the Old Columbia River Highway and a short half mile walk past Oneonta Gorge to Horsetail Falls.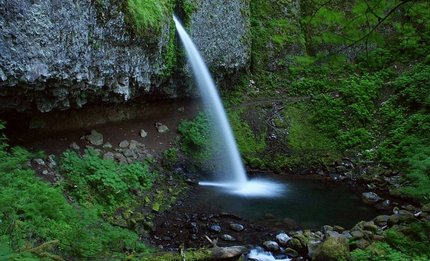 The trail goes behind Ponytail Falls
How to get there:

Coming from the west on I-84, take exit #28/Bridal Veil and drive east on the Historic Columbia River Highway past the Multnomah Falls Lodge and on to the Horsetail Falls parking area.

Coming from the east on I-84, take exit 35 (Ainsworth Park) and drive about 3 miles west on the Historic Highway to reach the Horsetail Falls parking area and trailhead.